Posts for: September, 2017
By DR. JOSEPH MUSCATIELLO & DR. FRANK VIDOLIN
September 28, 2017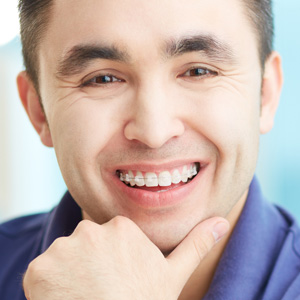 You've lived most of your life with crooked teeth and an imperfect smile. You feel you should have done something about it years ago, but now you're approaching your golden years — what would be the point?
Here's the point: there's a growing trend of older adults undergoing orthodontic treatment. People are discovering the life-changing benefits of straightening their teeth — even if they're no longer teenagers.
So, what's really holding you back?
I'm too old to have my teeth straightened. Not true — teeth can be straightened at any age, not just during childhood or adolescence. If anything would prevent orthodontic treatment it would be the state of your oral and general health, not your age. Your teeth's supporting bone must be reasonably sound and healthy; likewise, systemic problems like bleeding disorders, leukemia and uncontrolled diabetes can make orthodontics difficult. But if you and your mouth are reasonably healthy, you can have your teeth straightened.
It's too much to spend just to look better. Yes, orthodontic treatment can transform your smile — but it can also improve your oral health. Misaligned teeth are harder to keep clean, increasing the risks for tooth decay and periodontal (gum) disease; they also don't work well together so chewing is more difficult. By correcting your bite, you can reduce your chances of dental disease and improve overall mouth function.
I'd look silly at my age in braces. Self-consciousness about wearing these traditional appliances is common at any age. It's understandable — the glint of metal is the first thing people see when you smile. But there's a good chance you may be able to wear an alternative appliance that's barely noticeable: clear aligners. These are a series of removable, clear plastic trays that you wear in sequence to gradually move your teeth. Not only are they less noticeable than braces, you can take them out for special occasions.
Don't let these or other excuses keep you from a more attractive smile and healthy mouth. Visit your dentist for an examination to see if orthodontics can work for you.
If you would like more information on transforming your smile through orthodontics, please contact us or schedule an appointment for a consultation. You can also learn more about this topic by reading the Dear Doctor magazine article "Orthodontics for the Older Adult."
By DR. JOSEPH MUSCATIELLO & DR. FRANK VIDOLIN
September 13, 2017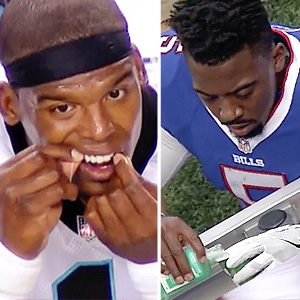 Everyone knows that in the game of football, quarterbacks are looked up to as team leaders. That's why we're so pleased to see some NFL QB's setting great examples of… wait for it… excellent oral hygiene.
First, at the 2016 season opener against the Broncos, Cam Newton of the Carolina Panthers was spotted on the bench; in his hands was a strand of dental floss. In between plays, the 2105 MVP was observed giving his hard-to-reach tooth surfaces a good cleaning with the floss.
Later, Buffalo Bills QB Tyrod Taylor was seen on the sideline of a game against the 49ers — with a bottle of mouthwash. Taylor took a swig, swished it around his mouth for a minute, and spit it out. Was he trying to make his breath fresher in the huddle when he called out plays?
Maybe… but in fact, a good mouthrinse can be much more than a short-lived breath freshener.
Cosmetic rinses can leave your breath with a minty taste or pleasant smell — but the sensation is only temporary. And while there's nothing wrong with having good-smelling breath, using a cosmetic mouthwash doesn't improve your oral hygiene — in fact, it can actually mask odors that may indicate a problem, such as tooth decay or gum disease.
Using a therapeutic mouthrinse, however, can actually enhance your oral health. Many commonly available therapeutic rinses contain anti-cariogenic (cavity-fighting) ingredients, such as fluoride; these can help prevent tooth decay and cavity formation by strengthening tooth enamel. Others contain antibacterial ingredients; these can help control the harmful oral bacteria found in plaque — the sticky film that can build up on your teeth in between cleanings. Some antibacterial mouthrinses are available over-the-counter, while others are prescription-only. When used along with brushing and flossing, they can reduce gum disease (gingivitis) and promote good oral health.
So why did Taylor rinse? His coach Rex Ryan later explained that he was cleaning out his mouth after a hard hit, which may have caused some bleeding. Ryan also noted, "He [Taylor] does have the best smelling breath in the league for any quarterback." The coach didn't explain how he knows that — but never mind. The takeaway is that a cosmetic rinse may be OK for a quick fix — but when it comes to good oral hygiene, using a therapeutic mouthrinse as a part of your daily routine (along with flossing and brushing) can really step up your game.
If you would like more information about mouthrinses and oral hygiene, contact us or schedule a consultation.