Posts for: January, 2015
By DR. JOSEPH MUSCATIELLO & DR. FRANK VIDOLIN
January 29, 2015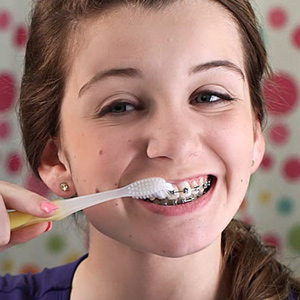 A "perfect storm" of dental disease could be brewing for your teenager undergoing orthodontic treatment. As braces or other appliances complicate hygiene efforts, newly erupted permanent teeth and changing hormone levels could also increase their susceptibility to tooth decay or gum disease.
Here are a few tips for helping your teenager maintain healthy teeth and gums while wearing braces.
Eat a Healthy Diet. Nutrition is a key component in a healthy mouth. Your teenager should eat a diet low in sugar, a key food source for bacteria that cause dental disease, and acidic foods and beverages that cause enamel erosion. Limit between-meal snacks to only a few times a day and drink acidic beverages only at mealtime.
Brush all Tooth and Gum Surfaces. For patients who wear braces, it's important to thoroughly brush above and below the wire running through the affixed brackets. Holding the brush at a 45-degree angle, brush between the wire and gums all the way around both the upper and lower jaws, then repeat the same technique brushing surfaces below the wire.
Clean Between Teeth. Flossing can be difficult while wearing braces, but plaque removal from between teeth is necessary for healthier teeth and gums. Orthodontic patients can benefit from special flossing tools like floss threaders, small interdental brushes or irrigators that remove plaque with sprayed water under pressure.
Incorporate Fluoride into Your Dental Care. A proven decay-fighter, fluoride strengthens enamel against erosion and infection. In addition to hygiene products and many drinking water systems, we can also supplement fluoride through gels or varnishes applied to the teeth during office visits, as well as prescription toothpastes or rinses with higher levels of fluoride for patients at higher risk of dental disease.
Use an Antibacterial Mouthrinse. Orthodontic patients with gingivitis (gum inflammation) or other bacterial-induced conditions may benefit from over-the-counter or prescribed antibacterial mouthrinses.
Maintaining an orthodontic patient's teeth and gums can be difficult, but not impossible. A little extra attention — along with regular office cleanings and checkups — will go a long way in preventing dental disease.
If you would like more information on effective oral hygiene while undergoing orthodontic treatment, please contact us or schedule an appointment for a consultation. You can also learn more about this topic by reading the Dear Doctor magazine article "Caring for Teeth During Orthodontic Treatment."
By DR. JOSEPH MUSCATIELLO & DR. FRANK VIDOLIN
January 14, 2015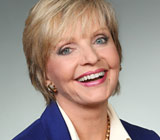 Florence Henderson has inspired generations of people through her portrayal of America's most beloved TV mother, Carol Brady, on one of the longest running situational comedies, The Brady Brunch. Today Florence is still a role model but for a much different audience: senior citizens.
Henderson created the FloH Club as an organization to assist senior citizens with understanding and embracing technology, as she described in an interview with Dear Doctor magazine. "I was inspired to create the FloH Club because of my own fear of technology and because I didn't want to keep asking my children for help," she said.
And while Henderson was blessed with naturally straight teeth and has had no cosmetic work done, she is not opposed to it. "I wouldn't care how old I was, if I had misaligned teeth or felt I needed cosmetic dentistry I would certainly do it!"
One teeth-straightening option many adults consider is clear orthodontic aligners. They are an excellent way for self-conscious adults to align their teeth without feeling that they will appear as an awkward "brace-faced" youth — a look that is commonplace for the teenage years.
But what are clear aligners? They are an alternative system to traditional braces that use a sequence of individual, custom-fitted trays that are clear and removable to gradually straighten teeth. They are usually recommended for correcting mild to moderate spacing problems or crowding of the teeth, and for cases in which there are no major issues with your bite (i.e., your back teeth fit together properly and biting forces are distributed evenly on all of your teeth).
To learn more about this method of aligning teeth, you can continue reading the Dear Doctor magazine article "Clear Orthodontic Aligners." Or you can contact us today to schedule an appointment so that we can conduct a thorough examination and discuss what treatment options will be best for you. And to read the entire interview with Florence Henderson, please see the Dear Doctor article "Florence Henderson."